ゆくえしれずつれづれ(Not secured, loose ends)
Who this idol group was and what they were about! Yukueshirezutsurezure, ゆくえしれずつれづれ(Not secured, loose ends)
IDOL-COREALT-IDOL
"Not Secured, Loose Ends" have a sister group, "Zenbu kimi no sei da," which translates to "It's all your fault," which wasn't posted as their official in the English name. Their official website gives the English phrase, "Blame everything on you," but that's enough about the sister group. I'm gonna get back to "Not Secured, Loose Ends"
this group started in 2015 with the three following original members; Mare A Komachi (まれ・A・小町), Omokuri Rin (想九里倫), and Futamaruya Shidare (◎屋しだれ).
This group's career began with two digital singles. The first, "Kyousoukaichinari," came out two days before Christmas of 2015. This was a collaboration with their sister group that I mentioned previously.
The New year saw a new member, Shiosaino Kichi (潮賽乃吉), join in February and, regrettably, graduate two months later due to illness.
The other digital single is a Collaboration featuring Mishiro Megumi, released in March of 2016.
The first mini-album, "Antino Mideology," was released in May 2016. About the same time, two other members, Kokoko (子子子), and Anata Tsuyame (英艶奴) joined the group.
The single "Six Fall Roar/Nietzsche to no Giyoku" was released late August 2016. Their first full album in December of the same year was titled "Post Catastrophe."
2017 saw the release of their second mini-album in February, "Antino Mideology -Kaishiki-" followed by the single. MISS SINS in March. And Loud Asymmetry in August. Also, it seems there was one self-titled mixtape in April of 2017.
Unfortunately, Loud Asymmetry would be the last effort with the Group from Kokoko (子子子). After that, she withdrew from the group and became Con (昆), who plays guitar and sings vocals in the rock duo "Gordon," formed in 2019.
In 2018 a new member, Mei Yui Mei (メイユイメイ), joined in January, and the single "Paradise Lost" was released on the last day of February. There were no other singles for 2018, but on August 1st, the album "exFallen" was released that year.
September 7th of 2018 saw the graduation of Anata Tsuyame (英艶奴). In December, two new members Takari Takara (たかりたから), and Kotetsu (个喆) joined "Not Secured, Loose Ends."
This would be the final lineup, three new members who joined in 2018, and one of the remaining original members, Mare A Komachi (まれ・A・小町).
In 2019, things probably started on a somber note as original member Futamaruya Shidare (◎屋しだれ), Graduated February 2nd. April saw the release of the single "Odd eye" release on the 17th, and in July, the single "ssixth" on the 3rd.
For November of 2019, The Re-recording of the album "BrightDark."
2020 looks to have started well for the group. On January 8th was the re-recording of the album "DarkBright" Then in March. They released the single "Still Roaring / REDERA," and the album "Paradox soar" was released in August, on the 26th.
I'd like to offer my heartfelt thanks and appreciation to Japanese Music Wiki for being an invaluable resource as I wrote this blog. Please go to their site and Get involved.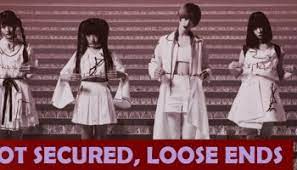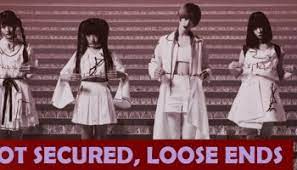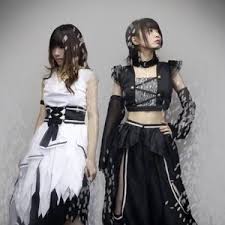 Not Secured, Loose Ends)Yukueshirezutsurezure (ゆくえしれずつれづれ)
Their official English name was "Not secured, Loose ends" while looking for information about I found out they are an exhaustion-passion idol group. That sounds relatively straightforward until I look up the definition of that sub-genre title, and I find a picture of our four girls here!
So I guess it's to do with, Once your passion is gone, you've exhausted your usefulness on stage? To paraphrase a Korean explanation on this topic of inquiry into idols. I don't know that it directly applies, but it's the best I could find.
I did find an American Idol story listed under my query. Still, it had to do with a particular contestant's exhaustion. For those who don't know, American Idol is a popular TV show, and not anything similar to the cultural phenomenon that is Japanese or Korean idol!
(Not Secured, Loose Ends)Yukueshirezutsurezure
(ゆくえしれずつれづれ)
We have an extensive list of music and products from this idol group.